Posts Tagged 'socialism
Barack Obama recently awarded the Presidential Medal of Freedom – the country's highest civilian honor – to 82 year-old social activist, community organizer, and racial bomb-thrower Dolores Huerta.
Huerta is probably best known for co-founding (along with Cesar Chavez, another PMoF winner) United Farm Workers, an organization meant to help protect and establish rights for agricultural laborers, but which actually has engaged in strong-arm tactics and violence against both businesses and farm workers. For an interesting read, skip the article at this link and proceed directly to the comments. There is a telling anecdote from a farmer who says he moved to the U.S. to escape Communism, only to find their tactics alive and well, perpetrated by none other than the UFW under the guise of helping the very people they were threatening.
Huerta is an Honorary Chair of the Democratic Socialists of America. She has praised socialist dictator Hugo Chavez, while addressing high school students, no less. She is quoted as saying "Republicans hate Latinos." She believes "we didn't cross the border, the border crossed us."
It's not like Huerta's political ideology or comments are hidden. She is unapologetic about her socialist leanings, proud of her record, and has managed to rack up a long list of accolades for her work.
To be fair, in a career as long as Huerta's, there were likely some positives to come from her work. The 1988 incident with SFPD is probably one of them. But regardless, the question still remains as to whether or not it is appropriate for a socialist to receive a Presidential Medal of Freedom at all.
It also calls into question Obama's reasoning. Was this nothing more than a photo op meant to garner Latino support? Does Obama share in Huerta's socialist ideology? Does Obama secretly believe in Chavez-style governance? All of the above?
Let's hear what you think.
"Obama is a socialist!" How many times have you heard this? Maybe even said it yourself? I know I've said it. Though not without merit, the term is technically inaccurate. A new term is needed.
Perhaps it would be more accurate to refer to Barack Obama as a shakedown socialist. After all, what was it he said to the CEOs of the financial institutions? Something like: "I am the only thing standing between you and the pitchforks."
www.amazon.comWhat did Obama mean by that? What exactly is a modern-day "pitchfork?" For the answer, we turn to a great little book I recently finished called Shakedown Socialism. The subtitle is "Unions, pitchforks, collective greed, the fallacy of economic equality, and other optical illusions of 'Redistributive Justice'".
The author is Oleg Atbashian, who was born and raised in the Ukraine. He lived in the USSR and tells the reader in his preface that, at the time, he believed the Soviet Union was the most advanced society on Earth. As he grew older he says he noticed limits to intellectual inquiry, as well as corruption, and his eyes were eventually opened to the fallacy of Socialism.
He goes on to detail in seven concise chapters how certain things which are happening in the U.S. remind him of things that happened in the USSR.  He talks about how unions breed the concepts of communism and socialism. He talks about the lie of economic justice, and how forcing "equality" by rigging the economy will actually CREATE a financial crisis. And he details how all these ideologies — which are presently very popular among the progressive left — are actually UNjust, selfish, demeaning, and ultimately dangerous.
There were so many great observations and statements in this book that I can't even begin to detail them all. But one of my favorite passages of the book begins with the following:
On the surface, the idea of economic equality may seem like an honorable moral goal, which explains its resilience and attraction. This is why it continues repeatedly and with impunity to bring one economic and social disaster after another anywhere it's tried. On the flip side, opponents of economic equality are branded as greedy, selfish, and immoral – which is why few politicians dare oppose this absurdity.
Atbashian goes on to articulate a fantastic dismantling of the case for "social justice" and mounts a rousing defense of capitalism.
The author also includes an addendum aimed directly at Barack Obama. In it, he discusses how Obama uses "angry mobs" (think SEIU, and organizing communities through agitation) to further his goals. But he also points out that "in a balanced society, an angry mob is never part of the equation."
I love books on Socialism or Communism written by folks who actually lived it. The credibility behind their opinions are immediately apparent, and they have personal insight that those of us who grew up in the U.S. typically lack. Shakedown Socialism is one of those books, and at 124 pages it is a quick and easy read.
And remember, any purchase made by clicking one of these links helps HillBuzz a little bit without costing you anything extra! If you pick this book up, let me know what you think.
www.amazon.com or get the Kindle Version
Thanks to Alert HillBuzz Reader Indy for the heads-up.
EXCELLENT video.
Last night, we all went to Scarlet for their Frat Party Thursday, where they have $5.00 40s, beer pong, Nintendo, and other games, attracting a much younger crowd than we typically find ourselves in here in Boystown.  Joaquin loves it, because he was in a frat back in Texas, and thinks it feels a lot like the parties he used to go to in college.
Panda loves it, too, because he gets to be in all his glory, since all these younger guys have never heard any of his jokes or seen any of his stunts (or his dance moves) before, and are just endlessly marveled by his antics.  Last night, he wore a deconstructed fedora, thick coke bottle glasses he found at a garage sale, and a houndstooth jacket that only he could pull off, and everyone just loved it. They were all drinking a lot, too, so maybe that explains it.
Joaquin got us into a game of flippy-cups with a bunch of twenty-something guys and their female sidekicks (pretty straight girls who choose to spend their Thursday nights at a gay frat party yet wonder why they're single). During the game, we gently pushed to hear their thoughts on Obamacare, and were genuinely surprised by their lack of knowledge and general reactions.
Seth, a football player-built 26 year old consultant crammed into a tight black shirt and de rigeur monochrome black vest and pants, looking much like a gay ninja on his way to a side gig bartending at MiniBar, started the conversation after successfully flipping his cup so his teammake could chug and start his own flip.
"Well, I think this helps capitalism because if the government takes over the insurance companies, then that fosters competition because then the insurance companies won't be able to charge so much".
Robby doesn't drink, and is charged with the notebook and pen when we're out on these investigative missions, so these are direct quotes, folks.
Seth went on to explain that "socialism isn't inherently the enemy of capitalism, and I learned that at the University of Dayton in a poli sci class.  My professor told me that a little more socialism would be good for this country, and my professor was very smart".
Now, Seth is not a "Brenden", so this was all rather surprising to us.  "Brendens" are the male airheads of Boystown, and can be spotted as any guy, for whatever reason, wearing a tank top out in public when the weather's below 75. Brendens do this to show off their guns and chest, but in reality reveal more about what's between their ears than they realize.
Brendens typically just parrot whatever they heard Anderson Cooper say on TV the last time they were at Steamworks and caught a little CNN in the lounge, resting up before another loop through the sauna and steamroom, where they get to parade around totally naked and give everyone more than the usual tank top show.
Another instance where we wish we were kidding, but this is Boystown.
Seth's sidekick, Katie, was a loud and lively (in a very good way), Midwestern blond who more or less votes Democrat, "but doesn't really know why, it's just what my parents always did".  We asked her if she knew the government was going to force her to buy insurance, and she said she didn't realize that and hadn't really been paying much attention to what was going on, because she has "been busy".  Also, she lives above one of the bars on Halsted and "hasn't been getting a lot of sleep, so this stuff is all really hard to follow".
We asked her if she had health insurance and she said she didn't, but that her friends told her insurance would be free.
They told Katie it "was part of the stimulus thing" Congress passed in February 2009.
We told her that wasn't true, and that she'd have to pay for insurance out of pocket whether she wanted it or not, or pay a $750 fine.  We asked her if she had that kind of money and she said she didn't.  "That's a whole month's rent", she told us — her share of the three bedroom she rents here in Boystown.
Some of the other guys playing flippy-cups talked about the fact that largely everyone in the bar was a Democrat, because gay guys are Democrats, and that people don't really think about politics or government much, because "it's so boring".
We asked them what they planned to do in the upcoming elections, and they asked us, almost to a guy, "what elections?".
"The ones in November", Sebastian prompted.
"Didn't we just vote.  I voted for Obama," a Brenden said proudly.  "I went down there and it was boring but I did it.  And then they gave me a sticker and I almost wore it but my jacket was suede and my mom said to stop putting stickers on my suede because she won't buy me a new one, unless I get a girlfriend and then I can have whatever I want, even a car".
"Do we vote on stuff every year?  That's a lot of work," Brenden #2 complained.
We explained how off-year Congressional elections worked, but the Lady Gaga/Beyonce "Telephone" duet revved up the crowd, so of course Panda seized the opportunity to challenge drag queen Frida Lay, resplendent in a sea foam green gown, to a lip-synch-for-your-life challenge.  This is similar to the "dance-offs" Panda's forever igniting almost wherever he goes, even at the rundown Sears on State Street, or with the guy who stirs the paint at the Home Depot near Diversey (aka, the lesbians' promised land).
The political conversation pretty much derailed after that, because Panda made such a scene, taking the Gaga part, mouthing every word perfectly, and doing all her dance steps like he choreographed them himself (which some of us speculate he did).
"Just look at him go," Katie said, flipping another cup on the table.  "You know she was at Kuma's Corner like a month ago and had a Pantera Burger and waited in line like everyone else".
"Panda?", Joaquin asked.
"No, Lady Gaga.  She was really chill.  I was there that night."
Just as all the assembled pieces of "the true cross" displayed as icons in churches all throughout Europe could build several life-size replicas of Noah's Ark, if everyone in Boystown who claimed to be at Kuma's when Lady Gaga ate her Pantera Burger came together in one place, they could fill Wrigley Field several times over.
By all accounts, Lady Gaga was chill, though.  For the record.
And Pantera Burgers are indeed delicious.
Even when Panda insists on calling them "Panda Burgers", which we'd never recommend for a restauranteur, with all that potential to have not only the health department but the World Wildlife Fund and various truth in advertising groups on your back for no good reason at all.
Are any of the rest of you having conversations with people in their twenties?
If so, what are they saying about Obamacare?
What do they think of when they hear the word "socialism"?
Are they still quoting their college professors?
Do they think Lady Gaga is chill?
How would they place in either a dance-off or a lip-synch-for-your-life with Panda?
What think you?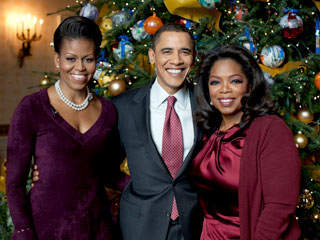 T'was the Night Before Obamamas
* as composed for the Inaugural Obamamas Celebration, to be held December 13th, 2009
On the twelfth of December
inside the People's House
all the staff was a flutter
down to the last Chicago mouse.
"Obamamas is near!", the Secret Service declared
with bulge in their biceps and springs in their steps,
moving and grooving faster than any could remember.
******
"We need more sparkle, more ribbons, more lights!
Give me a hand, boys, spring my aluminum pole to new heights!
I'm a former ballerina, that's certainly true,
but I'm Chief of Staff now, much older, and not as studly and strong as you two!",
Rahm Emanuel demurred to agents most trusted,
who happened, of course, as always,
to be also those after which he most lusted.
******
"The Aluminum Pole of Obamamas must shine ceiling to floor,
let's polish it boys, with our sweat, spit, tears, and much more!
Get those jackets off, lose those ties, ditch those shirts.
Put your backs into it, put on a show, be my favorite flirts!"
Old Rahm, giggled, snickered, and hissed,
"If that shiny rod's not big, thick, and erect I'm going to be pissed!"
******
All that night and through the next day,
Desiree Rogers wandered the halls, mostly at play,
"I'm the Social Secretary!  Don't you know who I am?
I was in Star Gate and The Crying Game, so get outta my way!".
"I've got doors to leave open! Duties to shirk!
I'll let any random stranger in this White House,
with my weird eyes, bad hair, ugly clothes, and a smirk!
Obamamas is my event, so this is MY night
though, of course, when it comes to actual work
I'll be nowhere in sight!"
******
Upstairs in her closets, the First Lady was scowling,
"These clothes are too pretty and appropriate!," soon she was howling.
"They're elegant and tailored and so very lovely," she grouched.
"Hurry my servants, I demand something hideous, strip down that old couch!
Make a dress of it, belt it, because I want to look like a clown!
Get Jason Wu, transvetite designer, to make me a new coffee filter gown!
******
The halcyon pool where Roosevelt once swam
was filled with all the hallucinagens the staff could now cram
before it was flooded with purple Kool-Aid by Chief of Staff Rahm-bie
to keep all of the president's followers unthinking zombies.
"We can't have an Obamamas without the blindly devoted,"
he prissed, looking full of himself, tired, haggard, and bloated.
******
Deep in her kitchen, Cristeta Comerford was busy baking,
making ACORN cookies, arugula tarts, and bitter clinging snacks for the taking.
Joe Biden was loose, again, in her freezer.
Stealing her ice cream, then, when scolded, shouting "Curse, you, Ebeneezer!"
"I'm Vice President and can eat tons of ice cream, cookies, and pop.
I'm in charge of your budget 'cause I'm the stimulus spending cop!
******
Somewhere beneath the historic rooms and wood floors,
Oprah was munching on various ungulates, like ox, camel, and boar.
"He's the One, like I told you, the Lightbringer sent from above,
that's why I'm here, eating these animals, prepared to televise our love
from the office that's oval to the rooms East, Blue, and Green,
the crazy inside me will pour through your video screens!"
******
And that's how things were on this new holiday
so disgusted, we are, by Obamamas itself,
that's all that we'll say
Last night, I caught up on the phone with my dear friend Abbey back in Cleveland and am still trying to process a lot of what she had to say. 
Abbey is one of my very best friends, and one of the best people I have ever known. We met about 11 years ago while working for the same company, and I've watched her become a mom, start her own internet business, and, for the first time in her life, become VERY politically active.  Maybe even more than me, if you can believe that. 
Abbey, like me, was always a dyed in the wool Democrat.  When we worked together back in Cleveland, I remember us sitting outside together behind the building, where she'd have a smoke on the loading dock and I'd pound back my vice, cans of ice cold terrible for me in every way Coke. 
We'd talk about how evil Republicans were, and how they were just out to get the Clintons; how they didn't stand for anything  and were just about money and looking down on people from their private clubs where they obsess over what sorts of pants people wear and how shiny the pennies are in their loafers. Oh, we would laugh and laugh at Republicans, between bouts of irrational hatred of them, and the snootiness we perceived in them. 
And if Abbey's anything, she is 100% anti-snooty.  She's the Buffy the Vampire Slayer of snootiness, in fact, if instead of vampires Buffy slayed snootiness, or the snooty themselves, which might make Buffy a serial killer now that I think about it, so maybe this wasn't the best analogy after all. 
Abbey's the Bobby Jindal of snootiness, practiced in the arts of snootiness exorcism. 
And she's also become something of a budding, Cleveland-based Sarah Palin.  You betcha.
Read the rest of this entry »
The G20 protests in London are turning predictably violent.
The most interesting bit in the article above is that some of these loons had foresight enough to create a faux police van and dress themselves up as officers in an attempt to sneak behind police lines and cause chaos there — like something out of Die Hard or Mission Impossible. 
Thankfully, they were caught. 
Every time there's one of these large-scale protests against capitalism and commerce, we wonder why these people don't move to Venezuela, Cuba, China, North Korea, Zimbabwe, or someplace else they might like better. If they are willing to go there and work under those regimes, we doubt anyone would stop them.  
The irony is that most of the people we've encountered in life who support anti-capitalist rhetoric like this are people who grew up in wealthy or upper-middleclass families.  In reality, most of this acting up is a collective jab at their parents for having to work late and missing little league practice or the school play.  Mommy and Daddy are the root of a great many people's personal issues, apparently.  
The first large scale assemblage of these people that we're aware of happened in Seattle in the 90s, and then took off around the world, wherever a global summit of any kind takes place.  What's interesting is that these protests continue despite Obama's election: wasn't he who they wanted as US President?  If so, why are they still protesting?  If they got the one man who conceivably could move the United States away from capitalism and towards a French Republic style of socialism, then why are they tearing London apart today?
Does anyone understand that, or know exactly what these people are so angry about?
Our take on it is that they really don't know what they are protesting, have no idea what they are talking about, and just enjoy creating a circus atmosphere and riling up the police and government for a few days whenever these events occur.
You'd think if Tom Daschle got a chauffeur-driven limousine from corporate America to tool around in, Lenscrafters or Sears Optical would give him some new glasses of his own, so he wouldn't have to wear Sally Jesse Raphael's cast-offs.
Is this more socialism we can believe in?
Sharing eye glasses with former talk show hosts?
So, what, today we get to wear our glasses, but tomorrow Phil Donohue or Jenny Jones will stop by to get a turn, and then Wednesday we can wear Ricki Lake's glasses?
Is that how Hope! and Change! work on this the fourteenth day in Year One of The Golden Age of Obama?
Why can't the men Obama nominates to his Cabinet pay their damn taxes (Geithner, Daschle) and not be criminals on the verge of indictment who should honestly be working as assistant managers of an Arby's (Richardson)?
Why can't they get their own glasses and leave poor Sally's alone?