Posts Tagged 'Helen Jones-Kelley
[ h/t for image above: an email going around today showing Candy Crowley's true "journalistic" colors ]
10. CNN's Candy Crowley is the Helen Jones-Kelley of 2012 (a woman who abused her position in a blatant way to help Obama and should be fired for it).
Do you remember the black woman in 2008 who worked for the Ohio Department of Job and Family Services who abused her position and accessed government computers to dig up dirt on Joe 'The Plumber" Wurzelbacher in order to help Barack Obama after this "plumber" asked Obama a question about wealth redistribution that embarrassed "The One"? That was Helen Jones-Kelley, one of the most despicable human beings in the state of Ohio who acted out of race-pride and Obama fervor to deliberately attack a private citizen who dared to question her god-king Obama at an impromptu campaign stop in the Toledo area four years ago.  Jones-Kelley was not fired or charged with criminal activity over what she did, but was forced to resign her position.  Ohio Governor Ted Strickland, who had been popular up until that point, ultimately lost his reelection bid I think in part to his refusal to fire Jones-Kelley outright for her malicious use of government computers.  Democrats in the state of Ohio have seen to it that Jones-Kelley has received various cushy positions through the years since…but she never seems to stay anywhere long because word has it that it's still a problem for her in professional circles that people can Google her and see all that she did in 2008 in service to Barack Obama.  I hope that cyber assault on Joe "The Plumber" was worth it because she is just never going to live this down.  She'll always have a job because Democrats who control agencies like the Alcohol, Drug Addiction, and Mental Services Board of Montgomery County will find a position for her…but people will always wonder if she can be trusted with any access at all to sensitive materials because of what she did as an Obama operative in the last presidential campaign.
I can guaranteed you that for the rest of my natural life whenever I need to cite an example of either a black person breaking the law out of race-pride to criminally help another black by attacking someone white or Democrats who willfully and knowingly abuse their positions in government to invade people's privacy I will refer to Helen Jones-Kelley.  I intend to always remind people what this despicable woman did in the name of race-pride and the Democrats' agenda.  Pulling a "Helen Jones-Kelley" to me is looking at the color of your skin, checking that it matches the color of the person you want to help, and then abusing your position and security clearance to attack someone who is not the same shade of mocha, coffee, or chocolate as you.
Ohioans were smart to boot Strickland from office for not taking a harder line with this woman…but Google and history will not be so forgiving of her. Not if I have anything to say about it.
This is Candy Crowley's future as well, after the stunt she pulled in service to Obama last night when she purposefully injected herself into the presidential debate — stopping the whole thing cold — and rescued Obama while he was lying about his response to the Banghazi attack.  For those who did not watch, Obama attempted to pretend that on September 12th he recognized the murder of Ambassador Chris Stevens and others in Libya was a terrorist attack when in reality Obama blamed the assassination on a protest against an anti-Muhammad YouTube video that got out of control.  This is, in fact, the lie the White House kept telling for several weeks after September 11th, 2012…with everyone from Jay Carney (Obama's spokesmodel) to UN Ambassador Susan Rice repeatedly insisting YouTube was to blame for the rape and murder of Chris Stevens.  Obama himself went to the UN and repeated this lie extensively, talking about YouTube a half dozen times and blaming the video and "protests" that bizarrely arose on September 11th of all days to denounce a video that most Muslims had never even heard of.
Candy Crowley really needs to look into a new career as a Carnie Wilson impersonator because she should never be allowed to moderate any sort of debate again; she leapt in when she saw that Obama was lying about when he decided Benghazi was a terrorist attack and she sided with him against Mitt Romney when Crowley herself had done interviews with David Axelrod and others where they talked about the YouTube story to her around September 30th or so.  This means she clearly knew the administration was not claiming it was a terrorist attack but was still blaming some random YouTube videos for the first murder of an American ambassador since 1979 in Tehran.  If Obama had really said that Benghazi was a terrorist attack on September 12th then Crowley would be proved one incompetent reporter for not asking Axelrod why they changed their tunes and were talking bout YouTube videos on September 30th.
What really happened was this:  much like Helen Jones-Kelley sitting in her office at the Ohio Department of Job and Family Services, Candy Crowley sat in her specially-reinforced chair up on that debate stage and saw Barack Obama in trouble, saying things that would hurt him.  So, Candy, like Helen before her, jumped in to save him and abused the position she was in to interfere with what was happening.  Helen did this by invading a private citizen's confidential records in an attempt to destroy this white man to save the black candidate's campaign from an embarrassing discussion of what he really meant to say when talking about wealth redistribution; four years later, Candy did essentially the same thing by stopping the debate cold and siding with Obama so that Mitt Romney would not be allowed to expose Obama's lies before 60 million people.  The actions of both Helen and Candy were similar to them racing to jump on a grenade and blunt its blow to Obama in any way they could at the time.  The two of them did this out of blind love for Obama, without thinking about the consequences that would come later on.  It was simply pure instinct that caused them to help him because they are both devoted to him emotionally.
Helen should have been fired for her behavior and Candy should be fired for hers.  I am not going to hold my breath, however.  But the fact that immediately after the debate Crowley was forced to admit she was wrong and shouldn't have done that tells me that the second she walked off the stage someone had a talk with her about how badly she behaved herself…and how she's ruined her career.  From now on, whenever anyone wants to cite and example of the national media behaving as a Ministry of Truth that attempts to help Democrats by blatantly rewriting history to the Democrats' advantage they will remind people of what Candy Crowley did in service of Barack Obama on October 16th, 2012.  The act of helping a Democrat during a debate will be known as a moderator "pulling a Candy Crowley".
Prior to last night, Candy Crowley was best known to Americans as: (1) a woman with a stupid name, (2) someone who resembles an older, disheveled Carnie Wilson, and (3) that reporter who got drunk on Election Night in 2000 and slurred her words and had trouble staying upright while reporting on the Colorado voting results.  Today, she's the moderator who stopped the second presidential debate cold with a false "fact check" that attempted to save Barack Obama from the lie he was telling about the Benghazi terrorist attack.
I believe the last survey of the public's confidence in the media showed that something like only 30% of Americans trust reporters, newspapers, and the tee-vee networks to accurately report the news without any partisan bias.  I believe the next survey in this matter will show a further decline in the public's trust of the media linked specifically to what Candy Crowley did last night.
She should be the laughingstock of her profession today, but of course she won't be because she tried to help Obama.  True, she went further across the line than most "journalists" do these days and was a little to open and obvious about what she was doing, but most of the other talking heads and political reporters out there would have similarly raced to jump on that particular grenade to save "The One" from embarrassment when he was telling a lie like this.
If you ever wonder why I call the national media "Minitru", it's because of people like Candy Crowley and their clear attempts to rewrite history to best serve Democrats.
9. Barack Obama appeared to be raging on cocaine last night. 
Read the rest of this entry »
This is truly outrageous (but not in the awesome Jem truly-truly-truly-outrageous sense I love), and I honestly want your opinion on whether you would join in if I organized a letter writing campaign to Ohio Governor Kasich over this.
Helen Jones-Kelley is the bougie Obama operative who wears those ridiculous suits that look like they are made from skinned Muppets, and who illegally used Ohio's Department of Job and Family Services computers to dig up dirt for the Obama campaign to use against Joe "the plumber" Wurzelbacher in the last days of the 2008 presidential campaign.
Then-Governor Ted Strickland just gave her a slap on the wrist and allowed her to resign instead of being fired…so that she could reapply for a government job with the state when people forgot about what she did to Joe the Plumber.
Well, here we are in 2011, and Jones-Kelley is now the Director of the Montgomery County Drug Addiction Board.
This woman should honest to goodness be working in an Arby's (with Bill Richardson) and should never again be allowed near a government computer.  She cannot be trusted with one. Or, come to think of it, with curly fries! The same goes for Richardson if we're being honest.
Please chime in on this poll and let me know if you would participate in a letter writing campaign to the new Ohio Governor Kasich to let him know what a shock and embarrassment it is to see this terrible woman once again restored access to private information she could potentially use to serve Obama in 2012.
First she came for Joe the Plumber…next will Helen Jones-Kelley come for you…or your Muppets?
Do you honestly think if she was a white man and did what she did to an Obama supporter, instead of being a black Obama operative committing this crime on a white male McCain supporter, that she would have had just a slap on the wrist, no jail time, and be allowed back at a government job in three years?
Be honest.
Because I just don't think so.
Today, October 29th 2010, David "Popcorn" Kernell is scheduled to be sentenced for the crime spree he engaged in as an Obama operative in the waning days of the 2008 campaign.
Kernell is the son of disgraced Tennessee Democrat state rep Mike "Terrible Father" Kernell, and was motivated in his computer-based crimes to attack Governor Palin after she became John McCain's VP pick on the 2008 Republican ticket.
Kernell was convicted of his crimes what seems like ages ago, but his sentencing was delayed again and again for various and sundry reasons.
Unless it's bumped again today, we'll finally know how much time Kernell spends in jail for breaking the law to serve Obama.
We're suspicious of this sentencing process because Kernell is just the latest Obama supporter to face justice for committing crimes to foster Obama's election.  Remember:
* Black Panthers stood outside a Philadelphia polling place and intimidated voters into casting ballots for Obama — the case was later dismissed by Obama Attorney General Eric Holder, in a Justice Department that is claiming the Voting Rights Act "does not apply to white people"…and that blacks won't be prosecuted for crimes against whites in the Obama administration
* Helen Jones-Kelley, disgraced former Director of Ohio's Department of Health and Family Services, used government computers to illegally obtain information against Joe "the plumber" Wurzelbacher in the last days of the 2008 campaign…in hopes of using Alinsky Methods to attack Joe the Plumber for asking Obama a question that led the then-candidate Obama to reveal his "redistribute the wealth" socialist intentions for the country.  Jones-Kelley was at first defended by Governor Ted Strickland, but was later asked to resign her position (and was not fired).  Instead of being prosecuted for her crime, she now "consults" to the state of Ohio…apparently on orders from Obama that she remain employed by taxpayers in some capacity.
The current INjustice Department has a distinct habit of making sure Obama operatives receive the lowest sentences possible, when they are prosecuted at all for the crimes they committed to help elect Obama.
BUT, the Black Panthers and Helen Jones-Kelley are all black and David "Popcorn" Kernell is white…so today is a test to see if he's treated differently than other Obama operatives because he's not black himself.
Will INjustice be blind to color when the Obama operative is a Boticelli-curled white boy from Tennessee, instead of Black Panthers or a Helen Jones-Kelley?
We guess we'll soon see.
Jennifer Brunner, Ohio's Secretary of State, is a close second as the Most Terrible Woman in the Buckeye State (beat only by Helen Jones-Kelley, the former Director of Ohio's Department of Job and Family Services, and scourge of Muppets everywhere).
Brunner is one of the eggs hatched by George Soros' "Secretaries of State Project", which installed all sorts of lunatics in various states, where they are perched to allow rampant voter fraud by the likes of ACORN and the SEIU to benefit Democrats in state and national elections — a job Brunner pursues with zeal, glee, and vigor.
She's also pursuing the Democrats' Senate nomination in Ohio, against Lt. Governor Lee Fischer, and on Sunday pledged she'd throw a tantrum and essentially make raspberry sounds when she loses to Fischer in the election today.
Brunner actually said, out loud, to the media, that she'll refuse to campaign for Fischer when he becomes the nominee.
"Don't hafta, ain't gotta!  Get me Soros on the phone.  Tell him baby's not happy!", Brunner seems to have said, in classic Jennifer Brunner fashion.
It's stunning, really, until you remember who hatched and installed Brunner, and whom she truly represents.
She's the Left's candidate.  She was placed in her position to deliver the state for Obama in 2008, and to do everything possible to allow fraudulent voter registrations and other fraud to benefit Democrats when they need it.  She's shameless in her pursuits, and sloppy enough in her execution that we hope Ohio voters are the ones giving her raspberries today.
Let her pout.  Let her get Soros on the phone.  Let the lot of them go down together.
AND, most importantly, let Republicans keep George Voinovich's Senate seat in the fall, with a victory for Rob Portman.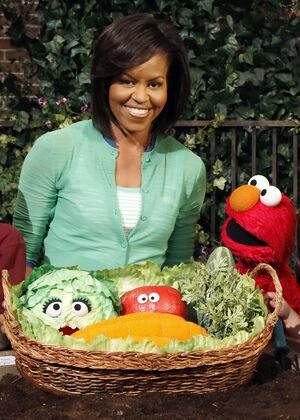 Here in Chicago, there's a comedy troupe called "The Scooty and Jo Jo Show" that lampoons various movies with stage productions, randomly casting some of the parts as puppets.  During Halloween, they staged "The Carpenters' Halloween", which was a hilarious reimaging of John Carpenter's Halloween, but set to Karen Carpenter and her brother's music.  Normally, when we hear The Carpenters, we start thinking about how if only Karen and Mama Cass had shared that ham sandwich, both would be alive today…but the puppets kept us focused on what was going on.  The puppets, we realized, when employed effectively can be MAGIC.
Scooty and Jo Jo cast one puppet as Dr. Loomis, and the puppets as various background characters.  The main actors would carry the puppets around so the puppets could say things they were thinking, or couldn't get away with saying. The puppets could be blamed for anything bad that happened, or any strange sounds or odors that occurred during the performance.  "Don't look at me…it was the PUPPET!".
Recently, the current first lady went on the show Seasame Street, for some reason that escapes us all.  "For the first time in my adult life, I am proud of Seasame Street.  Big Bird, for the first time in my adult life, I am proud of you, because you have now met me. Elmo, for the first time in my adult life, I am proud of you too.  Oscar, I don't know why people call you a grouch, because you are more cheerful and scowl less than I do, even on days when I am proud of my country for the first time in my adult life."
We wondered, "Why couldn't Mrs. Utopia take one of those Muppets home with her from Seasame Street, and carry it everywhere she goes, so it could articulate all the things she wants to say, but can't in her position?".
Maybe this would improve her attitude and allow her to smile more, since the Muppet could do all the scowling.
Perhaps the Muppet could be the one to wear the hideous clothes with giant Playschool wrestling belts or childlike, insane bows.
The Muppet could go on all the reality TV shows like Iron Chef and Biggest Loser…while Mrs. Utopia could be freed up to go on reality shows that could actually help her, like Project Runway (because, face it, even on that crazy "shop for fabric at the supermarket challenge" those kids make nicer looking clothes than Jason Wu or Narcisso Rodriguez COMBINED).
The Muppet could hug her hip all day, muttering about RAAACISM, and essentially just making angry noises, like the static of a TV tuned in between channels.  That's what we imagine plays inside Mrs. Utopia's head 24/7.  If it's channeled into the Muppet, perhaps, for the first time in her adult life, Mrs. Utopia could be cheerful and smile when not being given a present or told she is "the greatest fashion icon the world has ever seen" by people who need to have their vision checked (or blindness legally recognized).
The Muppet could do all the pushing and shoving.
The Muppet could do the farting through the silk.
The Muppet could send ridiculously inappropriate gifts to world leaders (an Ipod to the Queen of England, DVDs of movies they play every night on basic cable to a blind man, a Pocahontas coloring book to a prime minister's sari-clad wife (getting "the kind of Indian" wrong)).
"Oh, we're sorry Mrs. Prime Minister, that wasn't the FLOTUS that did that.  It was her Muppet, an impish and perpetually scowling little goblin named Grievance.  And it wasn't spoiled dilettante Desiree Rogers who allowed party crashers into the state dinner to meet your husband, that was Grievance as well.  Grievance is behind most of the odd and asinine things that happen in this White House.  Those bows to the diminutive Emperor of Japan and morbidly obese sweat machine that is the King of Saudi Arabia?  That was the current POTUS trying to chase Grievance away before she untied their shoes.  Grievance is a scowling, crazily-dressed, entitled handful."
Grievance thinks it's a good idea to dress up like an old woman's couch.
Grievance ensures the only day the current FLOTUS looks pretty and appropriately dressed is Halloween.
Grievance ruins the gorgeous, enchanting inaugural gown the FLOTUS was supposed to wear, so an emergency Wilma Flintstone costume has to be made from ripped  up coffee filters (Project Runway supermarket challenge style) at the last moment.
Rumor has it some in the administration seek the help of Helen Jones-Kelley, disgraced former Director of Ohio's Deparment of Jobs and Family Services, who was booted from office for abusing her authority to spy on private citizens in service of Dr. Utopia.  Jones-Kelley is central Ohio's foremost Muppet hunter and trapper, skinning dozens of the creatures a week to make her famous bougie pastel fashions.  "There are two things I like to do in this world," Jones-Kelley often says, "spy on ordinary citizens with government computers and then get caught, and also hunting, killing, and skinning Muppets, in no particular order.  And don't I  look FABULOUS in my periwinkle finest doing it?  NeNe ain't got nothing on me, girl".
It appears it would be easy enough for Jones-Kelley to slip into the White House unnoticed any time she wants, as apparently it's easier to get into than Princeton when the current FLOTUS attended.  Grievance could, thus, be removed at any moment.
But, for the current FLOTUS, where would the "proud of her country for the first time in her adult life" fun be in that?
The latest polls in Ohio show Rob Portman ahead for the first time in his bid for George Voinovich's Senate seat.
A year ago, the MSM was crowing that Voinovich was stepping down and essentially handing the seat to Democrats.
Some of us here are from Ohio, and knew Voinovich when he was Mayor of Cleveland.  One of us even used to work out with his niece Melissa, back when Voinovich was still being considered a VP pick for Bush back in 2000.  We've been proud of how well he's served our state in various capacities through the years and hope he's headed for a well-deserved retirement. He has always been one Republican we've long supported, because of the personal connections in Cleveland.
But, we've been disgusted by the state of Ohio since 2008, when the antics of Secretary of State Jennifer Brunner and former Director of the Department of Job and Family Services Helen Jones-Kelley came to light.
Brunner worked hand in hand with ACORN to commit voter fraud in Ohio; the woman should be in federal prison, not running for the US Senate.  She deliberately and purposefully manipulated voter registrations to do everything she could to throw the state to Dr. Utopia last November…and went above and beyond her partisan duty in that regard.  Brunner is a true disgrace to a state that deserves so much better from someone in charge of the fairness and accuracy of elections.  There are no words to describe how mortified we are at the state of affairs in one of our home states: with Brunner at the helm, we have more confidence in the fairness of voting in Paraguay than we do Columbus or Cincinnati.
What a corrupt disgrace she is.
And that brings us to the absolute worst person in the state of Ohio at the moment, and that's Helen Jones-Kelley, serial Muppet skinner and Dr. Utopia's favorite minion in the state.  This is the vile toad of a woman who abused her bureaucratic authority to misappropriate government resources and spy on Joe "the plumber" Wurzelbacher in the closing days of the 2008 campaign when Joe asked Candidate Utopia an impromptu question about his socialist agenda at a Toledo campaign stop.  Dr. Utopia fumbled when called out on his socialist leanings, and so Wurzelbacher needed to be punished by the DNC and Utopia campaign.
Enter Helen Jones-Kelley, she of the bougie felt wardrobe and dearth of professional ethics.
It is embarrassing to the nth degree that slime like this had the power to pull government records on a private citizen and release them to the news media, in an effort to shame and discredit someone whose honest question embarrassed an unprepared, bumbling, socialist candidate.
As much as we love Ted Strickland for his undying support for Hillary Clinton in the primaries, we have to honestly say we've never felt right about him since the Wurzelbacher incident, either.  He should have immediately fired Jones-Kelley, having her physically picked up by burly Teamsters and tossed out of the building on her bougie ass, if not dumped into the Cuyahoga or one of our other picturesque, sometimes-flaming rivers in the state. It took Strickland several months of "investigations" before finally asking for Jones-Kelley's resignation.
Her golden parachute was the White House's efforts on her behalf to land her a cushy, well-paid position on a charitable board, where she now sits (in ugly periwinkle felt, no doubt).
Shameful.
In 2006, Democrats in Ohio roared back to life because of the chaos and corrupt ineptitude of the Republican Taft administration in the state.  If people like Jennifer Brunner and Helen Jones-Kelley are allowed to run wild abusing their authority and deliberately utilizing the tools and public trusts of their office to further the causes of Dr. Utopia and his agenda, then we think it might be time to clean house in Ohio again…and hopefully install good Republicans in office to fix what ills bad Democrats like Brunner and Jones-Kelley have wrought.
If Democrats lose control of Ohio again in 2010, it will be an earthquake-level repudiation of Dr. Utopia and his socialist corruption that even Chris Matthews and Keith Olbermann at MSNBC couldn't ignore.
Here's an update on Helen Jones-Kelley, the Utopian flying monkey dispatched by Team Obama in the last days of the 2008 campaign to spy on Joe "the plumber" Wurzelbacher after he asked Dr. Utopia a question, in front of his own damn house, wondering if "The One" was really a socialist out to redistribute American wealth.
Yes.  Why yes, he is.
But, Wurzelbacher had to be punished, so Jones-Kelley, a maxed-out donor to the Utopian campaign, quickly rushed to her bank of computers deep within Ohio's Department of Family, Child Services, and Abusing Authority While Destroying the Public Trust to dig up as much dirt as possible on this man.
A private citizen.
"Oh, I'm gonna find the good stuff, oh yes I am.  Yes, I can!  I'm gonna dig deep, deep, deep, like Oprah looking for Twinkies in Stedman's purse.  Oh, I'm gonna find the good stuff on this guy.  I'm gonna prove he tears the tags off his mattresses and I'm gonna tell EVERYBODY that he squeezes his toothpaste from the middle and not from the bottom down LIKE HE'S SUPPOSED TO.  Where's my ugly, bougie-ass powder blue Muppet skin suit?  I need to look GOOD when I'm misappropriating government property for Obama's gain.  Ooooh, Michelle is gonna be my new chit chat buddy after I pull this one off.  We'll be farting through silk together the two of us, laughing all about what I did in no time, you just watch.  And if you got a problem with that, then you are a DAMN DIRTY RAAACIST!"
That's Helen Jones-Kelley for you, The Butcher of Fraggle Rock, the Scurge of Seasame Street.
She's one of two criminals from 2008 that we will always keep tabs on…because we just know ultimately Dr. and Mrs. Utopia will repay her service with a big cushy job somewhere.  It is only a matter of time.
For now, thanks to JB for this update on the bougiest, rottenest, most shameless Ohioan we have seen in a great while:
Dear HillBuzz,
Ms. Jones-Kelley, enemy of Hlliary doing fine in Dayton, Ohio, still. She is being taken care of and has been named to the governing board of this foundation which doles out millions in grants. She this year, 2009, got named to the governing board and is to serve for 5 years. Most of these people are retired local longtme politications or the cream of the crop of business leaders or retired from the local Air Force Base. So what are her qualifications?  Was interesting to see she is listed as being a 'special assistant' to the President of Strategic Initiatives, whatever that is, at a local state university, Central State University, in Wilberforce, Ohio.
From the website of the Dayton Foundation:
Governing Board
A Governing Board of up to 15 volunteers provides stewardship for The Dayton Foundation and its charitable activities.
These experienced civic leaders are appointed to five-year terms by the senior judge of the U.S. District Court for Southwest Ohio, the probate judge of Montgomery County, the mayor of the City of Dayton, the chief executive officers of the Foundation's trustee financial institutions (two appointments) and fellow members of the Governing Board (up to 10 appointments).
The Governing Board also serves as the Board of Trustees for the following related organizations: The Dayton Foundation, Inc., Dayton Foundation Charitable Accounts, Inc., Dayton Foundation Depository, Inc., Dayton Foundation Realty, LLC, and The Greater Dayton Pooled Income Fund (which invests gifts and pays income for life to donors and their beneficiaries).
The Governing Board also appoints at least one representative to the boards of each supporting organization of The Dayton Foundation.
Governing Board (As of January 1, 2009)
Charles A. Jones, retired chief operating officer/assistant city manager, City of Dayton, chair
Gary L. LeRoy, associate dean for Student Affairs and Admissions, Wright State University Boonshoft School of Medicine, vice chair
Thomas G. Breitenbach, CEO, Premier Health Partners
Craig J. Brown, retired senior vice president, treasurer and CFO, The Standard Register Company
Franz J. Hoge, retired managing partner, Dayton Office, Pricewaterhouse-Coopers LLP
Ellen S. Ireland, community leader
Helen E. Jones-Kelley, special assistant to the president for strategic initiatives, Central State University
Vicki D. Pegg, retired Montgomery County Commissioner
Colleen M. Ryan, vice president, Defense Programs, Dayton Development Coalition, and retired 88th Air Base Wing and Installation Commander, Wright-Patterson Air Force Base
Douglas C. Scholz, president, Unibilt Industries
Richard W. Schwartz, president and CEO, WinWholesale, Inc.
Fred C. Setzer, Jr., chairman, Setzer Corporation
Jerome F. Tatar, retired chairman, MeadWestvaco Corporation
Fred E. Weber, president and chairman, Weber Jewelers, Inc.
Today, we were thinking about all of the frivolous lawsuits and crazy attacks being perpetrated on Sarah Palin by Obama supporters on the Left.  It's all VERY similar to the sorts of things Helen Jones-Kelley did to Joe "the plumber" Wurzelbacher and David Kernel did to Palin herself during the 2008 campaign.  Malicious, clumsy, vile — and yet, all committed by people who claim to be inspired by Obama, working in what they claim is his best interest, oh He of the Hope! and the Change! and the New Kind of Politics!
Irony. Sweet irony. More tasty than the Purple Kool-Aid of Lethe itself. 
But, what's absolutely HILLARIOUS to us is that we were too busy today to write this up before now, and someone over at Talking Points Memo actually beat us to it, because we've seen crazy attacks and frivilous lawsuits employed against another woman we love, and all of that nonsense ONLY MADE HER STRONGER. 
Yes, the Palins are now in debt to the tune of $500,000 because crazy Obama Democrats keep filing ethics complaints against her (for things like wearing an Arctic Cat jacket to a snowmobile race, saying she was advertising a product, when in reality, the woman was just keeping warm and the Arctic Cat jacket was the best piece of winterized sportswear she owns). 
But, as a bunch of guys who've loved and supported Hillary Clinton since 1992, we know that $500,000 in legal bills will not be any sort of problem for Palin in the end. 
The lunatics on the far Right threw everything they could at the Clintons for a decade.  When they left the White House, the Clintons had MILLIONS of dollars in legal bills.  Today, the Clintons are worth upwards of $100 million, with those legal bills long since paid. 
Lunatics decided to attack Hillary Clinton on a daily basis — and those attacks endeared her to a great many people who made damn sure she was elected to the Senate in 2000. 
And, since those attacks never stopped, the people who are loyal to HRC never backed off either, and Clinton was re-elected to the Senate overwhelmingly in 2006. 
And then, in 2008, every nasty, sexist, misogynistic, and vile thing Obama or the MSM threw at Clinton helped win Hillary Diane Rodham Clinton more votes than ANYONE IN HISTORY HAS EVER WON IN A PRESIDENTIAL PRIMARY SEASON. 
Part of the reason we relate to Palin so well is that, as people who've watched Hillary Clinton be attacked for the entirety of our adult lives, we empathize with the Governor of Alaska…and we also know how this story ends for her. 
Palin will be able to do whatever she wants to do, and go as far as she wants to go, largely because lunatics who attack her will only keep making her stronger. 
And the woman is pretty damn strong to begin with. 
Can we even tell you how thrilled we were that THIS was Palin's response to the latest round of attacks from lunatic Obama crazies?  THIS is Palin unplugged, unfiltered, unhandled:
"Are Alaskans outraged, or at least tired of this yet — another frivolous ethics charge by a political blogger? This would be hilarious if it weren't so expensive for the state to process these accusations and for me to defend against these bogus harassments. Yest, I wore Arctic Cat snow gear at an outdoor event, because it was cold outside, and by the way, today I am wearing clothes bearing the names of Alaska artists, and a Glenallen Panthers basketball hoodie.  I am a walking billboard for the team's fundraiser! Should I expect to see an ethics charge for wearing these, or the Carhatts I wear to many public events? How much will this blogger's asinine political grandstanding cost all of us in time and money?"   – Alaska Governor Sarah Palin, March 24th 2009. 
We love that Palin called those Obama crazies "asinine".  
Love that. 
It reminds us of all the times we've heard Hillary Clinton tell stories at different events about all of the crazy people who hate her, and who make up bizarre things to attack her with.  Her personal favorite is when, in the early 90s, someone kept spreading a rumor that she was a championship diver.  Reporters would ask her about her diving background, and Clinton would tell them that she was not a championship diver, and then the reporters would call her a liar, insisting they had a fact sheet that said she was a professional diver (so it must be true).  After a few years of this, Clinton said she started to wonder sometimes how her family had hid this secret championship diving career she'd had, but didn't remember (and that the media accused her of concealing).  
The last time we heard Clinton tell that story was back in December in New York at the Q&A America Ferrara moderated for her. Something like 2,000 of her supporters were on hand, and all of us roared with laughter at the story.  We looked around at the crowd and saw a room full of people who would go to absolute Hell and back for Hillary Clinton.  As she told that diving story, we thought back to all the other crazy things people have said about Clinton, or done to her through the years.  And we remembered that every time she's ever been attacked, we've stood up for her — and in doing so, our commitment to her grew, our friendships with other Clinton supporters deepened, and Clinton remained, every day, a part of our lives and ongoing conversations.  
Who knows if there'd be a HillBuzz today if crazy people hadn't been attacking Hillary Clinton for 20 years. Is there a RosBuzz for Rosalynn Carter? What about a NanBuzz or a BarBuzz for Nancy and Barbara? 
Nothing against any of them, or against Laura Bush either, and all are talented and remarkable in their own ways. But, none of them ever inspired us to embrace their causes the way Clinton does. None of them ever gave us a reason to personally connect with them the way Clinton does.  None of them ever drew us to them the way Clinton does. 
Part of it, we're sure, is that as gay men who've long been attacked from all sides (by religious nuts, small-minded fools back in Cleveland, Pittsburgh, Rochester, Detroit, or wherever we grew up, and even our own families), for the most absurd and irrational reasons, we relate to all the abuse heaped on Hillary.  In the LGBTQ community, women who stand tall in the face of adversity and keep working hard with their heads held high strike a major chord with all of us who've also had to marshal on despite constant, bizarre abuse. That, and the fact Clinton has always worked her heart out for LGBTQ causes long ago made HRC a permanent heroine in Boystown. 
As a Republican, Palin doesn't have that sort of love from the LGBTQ community…but, you know what, if these loony attacks on her continue, and she continues to smack back at them with wit, wisdom, and fire, she might just do the impossible and bring gay, liberal, Democrats over to her side.  Right now, guys in Boystown just default to "I'm gay, so I'm a Democrat" and think attacks on Palin are funny (because, for the millionth time, we remind you being gay does not automatically mean you have class or taste). 
But, keep those attacks up loony Left, and we bet Palin will benefit from them, in a perverse way, the same way Hillary Clinton did.  
Because these attacks only make talented, strong women like Clinton and Palin stronger. 
They are a trial by fire, and these two are the sort that rise to the occasion. 
We chuckled when we read the piece in Talking Points Memo because we're coming from two different places, but arrive at the same conclusion.  The TPM piece is WARNING Democrats to stop attacking Palin lest they make her President in 4 years.  We think these lunatics should continue to attack Palin, because very soon someone on Team Sarah is going to find a way to really endear Palin to many Independents and Moderate Dems who won't want to associate with liberal loons who engage in this sort of thing.  
Independents and Moderates were alienated by the loony Right's attacks on Hillary Clinton.  To punish the Right, in a sense, those Independents and moderates (of both parties) sent Hillary Clinton to the Senate. 
Who knows to what higher office Independents and Moderates will send Sarah Palin to punish the liberal loons?
We have a saying around here: sometimes the universe sends you the wrong French toast; you didn't get what you wanted or ordered, but  in the end, you end up getting an adventure that takes you somewhere unexpected you never dreamed you'd go.
All the nastiness, pettiness, and downright evil Obama supporters continue to fling at Sarah Palin are, collectively, a heaping helping of the wrong French toast. 
Which could, someday soon, taste awfully good when served up by Cristeta Crawford in the White House kitchen, oh, roundabouts 2013 or so.
Barney Frank confronting you and saying how childish you are and how much you need to grow up is like Oprah telling you that you eat too many doughnuts and Helen Jones-Kelley confronting you about your Muppet hunting and skinning addiction. 
Code Pink deserves every bit of rebuke, but it's just funny to see the source that's coming from.
Dear HillBuzz,
My name is Patricia Melton, and I am President-for-Life of the Mineral City Coffee Club, one of the leading coffee clubs in the nation (as voted in such fine publications as The Mineral City Penny Saver, The Cleveland Plain Dealer, The Melton Family Christmas Newsletter, and Vanity Fair). I also run the most sophisticated and awe-inspiring aquaculture farm in central Ohio (as voted in Aquaculture Monthly, Tasty Fish Magazine, The Melton Family Christmas Newsletter, and the 1986 Red Lobster Placemat Menu). I am the beleagured wife of a jam and model train obsessed husband named Earl (who gets into everything, like an overalls-wearing-jam-stealing-raccoon), and the proud mother of a son named Robby (who hung the sun, moon, and stars, and lives in Chicago now) and all sorts of cat-babies (who are all very smart too, as voted in such fine publications as Cat Fancy Magazine, Pet Age, The Melton Family Christmas Newsletter, and Highlights For Children).  I have a daughter as well named Ann-Louise, who is a constant source of disappointment and endless drain upon my soul (the less said about her, the better). She lives in New York, considers herself to be an actress, dates married men, pronounces certain words like mozzerella or Mexico in sentences with a manufactured foreign accent, and once rode the elevator with actor Seth Green from floor two to floor five at Tiffany's on Fifth Avenue (where she embarrassed herself). Ann-Louise is no longer allowed in Tiffany's, but for reasons, surprisingly, unrelated to actor Seth Green. 
Every morning, the Mineral City Coffee Club convenes in my well-appointed and beautifully-decorated kitchen (because I am the President, this is my prerogative, and it is one of the many presidential perks to limit my daily commute to the distance from my living room to my kitchen, which is approximately 40 feet, give or take detours required around any of Earl's damn trains). We discuss the relevant current events of the day, solve mysteries, monitor local politics, judge people, and evaluate American foreign policy and diplomatic efforts. 
The cat-babies watch and listen intently, perched all throughout the kitchen, some hiding in nooks and crannies, looking adorable as they try to blend in with the Hummel figurines and other bric-a-brac collected on many a Coffee Club adventure through the lower 48, as well as exotic foreign destinations such as Iceland or China (where we solved many an international mystery, thank you very much). The cat-babies aren't technically members of the Coffee Club, because they are cats, and cats don't have money for dues, or apposable thumbs to hold their mugs (a requirement of the Coffee Club, as it's a bylaw in the national charter). Earl isn't a member of the Coffee Club because he'd get jam all over everything.  My son Robby and his friends in Chicago are honorary club members, because they are good boys who mostly agree with everything we say and do. They are Coffee Club: the Next Generation, but instead meet in Boystown over Pilsners and solve all sorts of mysteries of their own something tells me I don't necessarily want to hear about.  
My daughter Ann-Louise is President and Sole Member of the Disappointment Club, which meets 24/7 somewhere in Manhattan, rolling out of bed no earlier than 2:45 in the afternoon, before making the Bulgarian doormen in her building come upstairs to help find her shoes (which, typically, are found in the freezer, filed between the Stoli Raspberry, the Absolut Citron, and a voodoo doll of Sarah Michelle Geller, my daughter's perceived arch-nemesis, and TV's own Buffy the Vampire Slayer). How any grown woman can spend so much time in New York doing so little that matters, but expecting the world to cater to her is just beyond me. 
"The role of Caroline Kennedy has already been filled," I remind Ann-Louise, stating the painfully obvious, knowing the moment she hangs up on me she'll be on the hunt for more Jimmy Choo this, or Catherine Malandrino that, before it's time to meet another hedge fund manager at Le Cirque for drinks (since, now that they've moved the restaurant to their new location and have a new Maitre'd, she's no longer banned for life anymore, for reasons completely related to actor Seth Green).  
I don't know how Jackie Kennedy put up with Caroline's antics for as long as she did.  That woman really was a long-suffering saint (and it takes one to know one, apparently). Thank goodness I've got Robby and a houseful of cat-babies, because between Ann-Louise and Earl, and all those aquaculture ponds and bridges on my property, sometimes I feel like I'm living at Hyannis Port.
Did you know cat-babies love the smell of, but not the taste of, various flavored coffees?  If you regularly attended Coffee Club meetings of your own, you'd know this, because every morning, we serve a different flavored coffee, most of which are bizarre and unappealing and a real stretch on some imagined international relations theme.  Don't blame me, because I don't brew the coffee.  I have more than enough on my plate, between keeping Earl out of things, keeping the cat-babies focused and motivated, judging people, and preparing a daily list of discussion items for our Club meetings.  My mortal nemesis Anne Millar brings the flavored coffees, in what I believe is secretly a decades-long methodical plot to slowly poison me by celebrating the flavors of my (after) life.  Today's coffee, for instance, was called Icelandic Meltdown, referring to the recent collapse of Iceland's economy because of all the Hope! and Change! young  Icelanders pumped into investment banking in a country almost wholly dependent on fisheries and cod prices, wholly unrelated to either investment banking or actor Seth Green.
And that's what Anne's coffee tasted like: a whole lot of lukewarm cod, a briny slurry of bitter regret, with a foamy, frothy nastiness that made me think of so many bubbles burst, and so many billions swirled down the toilet. Which, of course, perfectly captured many an Icelander's broken dreams, while quickly turning my stomach (just like an afternoon on a jostling Icelandic fishing trolley, battered on the angry viking seas, barreling towards doom).
A few years ago, my son Robby did his study abroad in Iceland (mapping lava flows with GPS devices, because he is so smart and is very accurate with satellite technology and maps), and the whole Coffee Club went to visit him (myself, Club Vice President Grace, Secretary Helen (who used to work at the State Department, until the incident), Treasurer Barbra, Membership Director Annabelle, and Eeyore Anne). The people in Iceland were very pleasant and all looked like they are related to one another, just like brothers and sisters who creepily get married, or the weirdly viking-esque mannequins they used to have at Higbee's department store in Cleveland before it closed and became an empty, rotting shell sitting on Public Square. Icelanders were also a strange mix of practical and gullible, as many of them believe soundly in the benefits of sensible renewable geothermal energy sources while also believing in elves and trolls hiding in rocks, sewers, and caves around Iceland, causing all of the island nation's various and sundry problems.  They build brightly painted miniature houses next to their real houses so the elves will live in those instead of the real house (something, rumor has it, Rahm Emanuel's wife does as well, because he's so little and creepy, and she doesn't want to be disturbed late at night when he comes home with secret service agents, for whatever reason he's going to movies with them).  Robby even shadowed a crew of elf investigators as they worked on a construction site, trying to determine if elves were the cause of various machines breaking down (Robby was there to GPS map the precise spots where no elves were present, which was in fact, all of Iceland). The Mineral City Coffee Club investigated The Case of the Icelandic Elf Sabotage (as featured in The Mineral City Penny Saver and Melton Family Christmas Newsletter), and determined the cause of the breakdowns to be wholly elf, pixie, goblin, gremlin, or troll un-related (instead, it turned out, the machines in question were made by General Motors, and were just shoddily manufactured, unreliable, weakened by one-side UAW contracts, and poor performers in the international marketplace).
But, Icelanders still insisted the elves were behind all of their problems, and hoped that bumping billions into international banking would change everything. Because, we all know how great Hope! and Change! end up being when employed as financial or political strategy. 
Hope sure doesn't work for me when I forget to lock the cabinets or refrigerator and leave Earl home alone with raspberry preserves and the delusion I'll come home to clean, sparklingly white, unblemished antique lace drapes in the living room. Change remains nonexistent whenever I delude myself into believing this, at last, will be the year my daughter stops using "Don't ask what your country can do for you, but what you can buy at Armani" as her personal mantra in a determined quest to simultaneously follow in Caroline Kennedy's footsteps, while ultimately challenging Sarah Michelle Geller to some sort of poorly thought out and overly elaborate late night Fast and the Furious style game of chicken on the alkaloid  flats of Death Valley. 
This morning, the Coffee Club ladies and I discussed Iceland's meltdown, while sipping Anne's vile Icelandic Meltdown international coffee (or, in my case, pouring that swill into the artificial ficus Earl's mother gave me one Christmas, because the woman is THAT CHEAP). Grace, my best friend, in her role as Club Vice President, directed our attention to the various charts and graphs she brought, showing just how ridiculous it was for a small and independent fishing nation to splurge so much of its national treasure on grandiose projects with little chance of practical success.  The pie charts were especially good, and edible, as Grace has, as of late, become quite the fan of Ace of Cakes on TV (and now uses her oven and various fondants the way most people use Kinko's and Xerox).  There was one chart, in particular, that I believe would have accurately described Iceland's foreshadowing of America's own coming financial disaster related to Obama's recent Trillions-of-Dollars-Spending-Spree, but Grace, unfortunately, used blueberry as her medium, and while the rest of us were distracted by something adorable three of the cat-babies were doing (Mister Sniffles, Mister Giggles, and Mister Waffles, who, all in a row, each put either their paws on their eyes, their mouth, or their ears, like those hear no evil, see no evil, eat no evil monkeys, and Anne started a squabble because she said the cat-babies were all racists, because thinking about, talking about, or saying anything looks like a monkey is racist, even if the cat-babies doing whatever looks like monkeys are actually black cat-babies, or at least a mixed black and white cat-baby, like Mr. Waffles is), that particular pie chart just vanished into thin air. I, of course, knowing better, immediately went down into the basement where Earl keeps most of his trains (he calls the basement "Earlsylvania", his own private domain where he claims I have no powers, and I remind him he has no sense or grasp of reality). There, I found an empty pie tin, and blueberry all over Earl's face. "The elves did it.  I don't know anything about any pie. The elves ate the pie and then framed me for it," he claimed, knowing full well I didn't believe him, because if the elves of Mineral City ate as much pie as Earl insisted, there sure would be a whole lot of bloated, diabetic elves not existing at all in Mineral City because they are imaginary. 
I don't spend all that much time in Earlsylvania, visiting my husband's miniature HO scale world in the basement typically only when I'm upset with him and need to hide some of his little people to feel better ("Why no, Earl, I didn't kidnap your miniature Cub Scout Troop Jamborie and hide them under the magazine rack. It must have been those elves, all hopped up on pie again, looking for mischief"). So, I hadn't been down there in months, and was shocked at all the changes to Earlsylvania in that time. 
Apparently, Earlsylvania's economy is tanking with the rest of the country, and Earl's "stimulus package" isn't working the wonders he'd hoped.  "I tried everything, but nothing's working," Earl sadly admitted, having dug up most of eastern Earlsylvania to build a whole new track setup, a futuristic magnet levitating monorail connecting Earsylvania to a giant poster of Los Angeles Earl won by throwing rings at a clown's face at the last Mineral City Hobo Festival.  Fake boulders, styrofoam mountains, and half completed miniature buildings and construction equipment were strewn about everywhere, while all the lights in Earlsylvania were dark, and none of the little trains were racing around making any of the racquet that normally drives me crazy and makes me hate life. 
"I tried fixing it, and poured all this money into it, but I only messed it all up.  Something's wrong and I can't fix it, no matter how much I spend on new things, and no matter if I build a monorail to take people to that poster of Los Angeles they don't really want to go to". 
Earl's got a wire crossed somewhere.  And, also, in his model train set, something's not quite right either. 
When I came back up from the basement with the empty tin Grace had proceeded with her report, accurately guessing correctly she'd never see her pie chart again, not after the "elves" got hold of it. The ladies were now talking about all the wasteful spending projects Ohio was engaging in, now that Obama rammed trillions of spending through Congress, with absolutely no one in either the House or Senate reading the full 1,400 page bill before voting on it. I shuddered, thinking what would happen if I ever said yes to something Earl or Ann-Louise proposed without sitting down and reading every last word of it.  We'd have a barn full of strawberry preserves or a mountain of department store credit card debt if I'd ever give carte blanche to those two (which, of course, Ann-Louise would dramatically pronounce, Cahhhhhhrt-uh Ba-llllllllll-aaaaaaaaanchhhhhhh, with relish, on top of her overabundance of snooty cheese. Oh, excuse me, fromage). 
Now, I don't know what things are like we're your from, but Ohio is known for boondoggles.  It's not as bad as Robby tells me Illinois is, because at least we have a decent governor here, but we also have the Teamsters, and you all know how they can be in terms of ensuring an endless stream of pork into the state.  On top of that, the Ohio Department of Transportation could only be more ineptly run if Earl and his model train engineers were put in charge of it. Most roads around here are built to last a year or two before needing to be torn up and replaced.  Most of Obama's trillions in spending heading towards Ohio will be spent on scams like that, or on things that are nice to have, but not necessary, such as hiking trails, refurbished state parks, or improvements to the Mineral City and Chagrin Falls Muppet Sanctuaries (including a new breeding program to bring the herds back up to pre-2005 levels, before infamous Muppet hunter and skinner Helen Jones-Kelley earned her reputation in these parts as "The Butcher of Fraggle Rock".  My cat-babies just hate her, and I tend to agree). 
After all that money is spent, the Coffee Club ladies and I believe Ohio will be in no better shape and employing no more additional workers than Earlsylvania, after the Great Monorail Debacle of 2009 (which follows the Epic Seaport Fail of 2008, the Embarrassment of an Infrastructure Program of 2007, and the Mineral City Spire of 2006, which Earl built completely from toothpicks and elves mysterious toppled in the middle of the night, after covering the superstructure with quince jam). 
Helen, our own Coffee Club Secretary of Great, who used to work at the State Department until the incident and is an expert on all things international, said most of Obama's spending reminds her of the hundreds of thousands of dollars Icelanders waste on either elf insurance measures, or by rerouting expensive road construction around certain rocks or trees they believe may be haunted by elves.  Helen said the Icelanders scamming the construction companies by staging "elf protests" or "goblin mischief" to delay, prolong, and force yearly reworking of major construction projects is no more ridiculous than what corrupt construction companies do with federal contracts in America. An "elf investigator" is no more absurd or useless on a construction project than many of the state and federal employees in the Department of Transportation. And Icelanders, Helen notes, speaking as an expert from her days at the State Department (cut short, as they were), aren't committing graft for graft's sake, but merely waste money playfully for the same reason Bijork wears a dress shaped like a swan to the Oscars (which, come to think of it, still doesn't explain why Michelle Obama wore a Wilma Flinstone-inspired coffee filter frock to the Inaugural ball, designed by the same man who makes clothes for RuPaul and other drag queens or transvestites, and is now the single most ridiculous thing I've ever seen a grown person (who is not Earl) ever wear in public). 
Icelandic money has cute pictures of puffins and fish and all sorts of colorful characters on it, so it's all a lot of fun to waste. 
American money is drab, boring, and much, much more serious and less fun to throw down the toilet or stuff into caves with little plastic Cub Scouts for magical elves to find. 
Spending projects that cost a lot of money and tear up our basement, wrecking everything around them, don't work for Earlsylvania any better than they'll work for Cleveland, Akron, Columbus, Toledo, Cincinnati, Mineral City, or any of the other great American cities of Ohio. 
This was the consensus of the Mineral City Coffee Club, at least. Now, maybe your own Coffee Club came to a different conclusion when discussing Iceland and model trains over pie graphs, or perhaps maybe you drink tea and never really think about any of this international stuff, as tea drinkers tend to be self-centered and myopic racists like that.  Maybe you're drinking other beverages like the kind my daughter Ann-Louise stores in her freezer or Caroline Kennedy keeps in her purse (with all the ums, ahs, and you knows that pour out of that one, I'm convinced there's some extra strength Nyquil involved somewhere). I don't really know what your problem is, and I am not here to fix it or teach you things, only to observe and judge. 
Patricia Melton (but you can call me Pattymelt, because everyone else does)
Mineral City, Ohio