Posts Tagged 'diaper-babies
Some of you have asked us to further explain the difference between Concern Trolls and Eeyores.  Well, here goes.
Concern Troll = someone who posts on a board, forum, or article and says things like:
* "You know, I really like Scott Brown, but it's Massachusetts, and even though he's had a surge, it's Massachusetts, so we should stop phone-banking or working hard and just give up. It's Massachusetts".
* "Oh, I've been so proud of how hard Hillary Clinton has been fighting, but there's no way she's going to win Ohio.  This is the best board ever, and we all love Hillary, but I heard on MSNBC that Obama has it all sewed up, so for the good of the party she should just quit and drop out of the race.  I like her, but I think we need to just give up now."
* "You know, I didn't like Sarah Palin at first, but then, wow, she gave a great speech at the convention and I think she has a good heart.  Such cute kids, too!  But, really, I hate to say she's not ready yet to be Vice President, but she's not.  I think we just need to accept that and move on".
Concern Trolls use a lot of "I Statements", the kind bad therapists tell sociopaths to use more of so that they trick parole boards into releasing them.  "I think", "I feel", "I believe", etc.  They have a three-pronged, four or five sentence max, little system:
(A) Establish some positive connection to whatever the thread is about, but using "I Statements" to say things like:  "I like Scott Brown", "I didn't like Sarah Palin at first but", "I've been so proud of Hillary Clinton", etc.  The example about Palin is good because one of the other things they try to do is establish some sort of false-honesty by seemingly admitting something to the board, so that they generate a fake credibility, among other oxymorons.  "I didn't like her at first, but, now I do, and I've thus established you can trust me because I shared that secret, now listen to me when I tell you to sit your butts home and let Democrats win.  Otay?  Buh-bye!"
(B) Tell everyone they all worked hard and note how impressed the troll is with all of you ("This is the best board ever!"), and then express "concern" that people are getting their hopes up too much and that people need to not waste their energy on the task at hand.  "We've all worked hard, but now it is time to give up and do nothing so that Democrats can catchup and beat us".
(C) Flat-out, using "I Statements", tell everyone to just give up, but without making imperative statements that would come off as commands and piss people off.  So, they don't say, "You have to just stop and give up now so Democrats can win".  Instead, they say, "I think we're all just really tired.  We put up a good fight.  But the Boston Globe poll says Coakley's ahead by 15 points, and it is Massachusetts, so we should just all put our diapers on, sit in the corner, and fill them, all day, doing nothing productive, until someone can come and change us.  That's what I am going to do, and I have been the biggest supporter of our candidate ever.  I love this board!"
Concern trolls are often, but not always, paid operatives who quite possibly work in little boutique PR and Public Strategies consulting firms in major cities.  Chicago has DOZENS of these.  We know — we've worked in these offices.  Where do you think we learned everything we tell you?
********
Eeyores are different from Concern Trolls even if the end result is the same, to demoralize supporters of one candidate so the other candidate can win.
We came up with the term Eeyores to describe people in our ranks during the Clinton campaign who would depress other volunteers with their pessimism, negativity, and "there's no way we can win!" nonsense.  These are people who get all their news from CNN and MSNBC without realizing that CNN and MSNBC have agendas and deliberately lie to push them.
Eeyores LOVE emailing people negative articles.  It's sick, actually.
During the Clinton campaign, honest to goodness, we were stretched so thin it wasn't funny.  We worked full time, then raced home every day to run phone banks for Clinton out of Buzzquarters where we had volunteers come to make calls into all the primary and caucus states. EVERY NIGHT.  Strangers would come over to use our apartment to make phone banking calls.  EVERY NIGHT.  We had to clean, to bake, to get pizza, to have all the phone scripts printed.  EVERY NIGHT.  We slept, at most, two hours, maybe three, a night in those days.  It was insane.  We put every cent, every bit of energy, into campaigning for Clinton.
And then, there, in our email boxes, every day we'd find email after email from Eeyores, one particularly "O-bother!"-some one in particular, with CNN and MSNBC articles attached telling us we should just give up and quit.  "CNN says she can't win New Hampshire!".  "MSNBC says she won't win Pennsylvania!".  "Anderson  Cooper says she's going to lose New York!  NEW YORK!?!?!  We're DOOMED!  DOOMED!  DOOMED!".
The key difference here is this:  concern trolls WANT you to give  up; Eeyores don't want you to give up and don't want the opponent to win, but don't realize they are sabotaging all efforts you're making.
Concern Trolls DELIBERATELY lower morale.
Eeyores lower morale unintentionally.
They just can't shut their damn mouths and need to keep venting their pessimism, spreading their little black rainclouds everywhere.  It's frustrating.
Eeyores are actually FAR MORE DANGEROUS and harder to deal with, because they are often your friends.  In our case, with Hillary Clinton, Eeyores were people we liked very much — but the time and energy it took to keep these people propped up, and to talk them down off ledges they got on whenever Tim Russert starting bellowing "Just quit already!" really distracted us from other things we needed to do.
It cost us AT LEAST three essays a day we could have written…about 100 phone calls a day we could have made…or just plain old sleep we missed because we were refuting, bit by bit, everything the MSNBC/CNN propaganda machine was putting out there to discourage Hillary's voters and lower our turnout on election day.
Exhausting!
HillBuzz itself, this site, exists because of Eeyores, actually.  It's why we started this site, because the constant emails from 50 or so of these people on our list of 500 volunteers took so much time to address that we just started posting what we would have written to these people individually on this site.  We never intended this to be a national site.  It was strictly for Chicago Hillary volunteers, so we could share articles to refute what the MSM propaganda machine was doing, and to give people tips to fight Concern Trolls and combat Eeyorism in their own midst.
Evidently, there's still a need for this, because here we are two years later and we're still at it.
We'd love it if you could add to this thread your own experiences with Concern Trolls and Eeyores.  Republican sites we visit are chock full of Eeyores.  It's one of the two things we notice about Republican men in their 20s-30s:  they are the most Eeyore prone, gullible people we've ever known.  The media says it's all over, and these Marys pack it all in, drop their pants, grab their diapers, and fudge themselves in the corner — on cue.  Ridiculous.
The other thing we notice is that Republicans guys, for all the homophobic crap they sling (at least in Chicago), sure love wearing tight, tight khacki pants and get MIGHTY friendly after their, like 7th, Jack and Coke or whatever.  There sure are stories we could tell you from the Palin VP Watch Party…the McCain Debate Watch parties…or from Election Night that make our tales of Boystown pale in comparison.
Eeyores and closet cases, so, so many of them.  At least in Chicago anyway.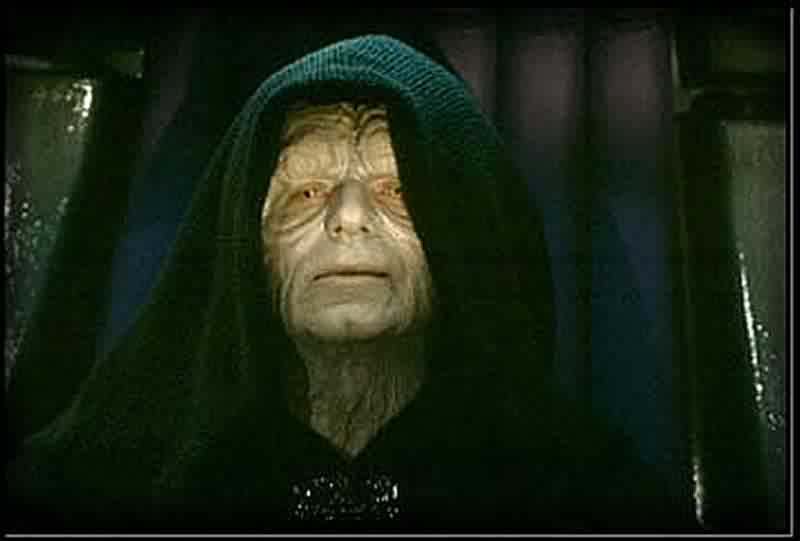 In the immortal words of both Jesse "not an actual member of the Jackson Five" Jackson and Al "screams his head off and rolls around on the floor wailing and diaper-fudging" Sharpton, "this is an unimaginable travesty…an act of clear and present RAAACISM!".
Pope Benedict (and/or possibly Emperor Palpatine) just elevated five people to sainthood, canonizing them.
In his playpen, between wails, Henry Gates attributed this to RAAACISM!, like everything else that happens to him, including rain and that itch he often gets when he forgets to put enough Happy Diaper Baby powder in his Good-Nites.
"Of course the Pope, a white man, CANONIZED those saints.  And what color are canons?  Black.  What color is Diane Cannon?  White. What color are Cannon cameras?  Black.  See, the things that are OWNED and bought by white people are BLACK, and the people who buy these cannons and cameras are all WHITE.  WAAAAAAAAAH!  I am going to write a very erudite and scholarly book on this subject and teach a graduate level course on it at Harvard.  Just as soon as I have my cheesey-cracker snack and drink half of my Capri Sun juicy-box.  I can't drink but half or I will have another 'accident', and then I will blame that on RAAACISM too," said the wailing embarrassment liberals keep insisting is a "distinguished professor of grievance propagation and imagination at Harvard.
Sharpton, Jackson, and Gates were joined by Spike Lee and Eric Holder, grievance squad reinforcements, who insisted Dr. Utopia was passed over for sainthood because "he's the wrong color and that old man in a dress with the candles, WHITE candles, is RAAACIST!".
One of the five people who actually worked hard and dedicated decades of their lives to real accomplishment before they won the ultimate of all awards is the new St. Damien, who worked in Hawaii with leprosy patients.
"Leopards?  Oh no you didn't say Leopards…you didn't say LEOPARDS.  Like in the jungle, leopards, so what you're saying is that because the president is half black he should be associated with the jungle, and there are leopards in Indonesia, which is really the president's home, not Chicago, so you are being RAAACIST and calling him a jungle-dweller who is just as bad as leopards so you need some new white saint to save the world from the partially black president.  Damn dirty RAAACISTS, all of you," Spike Lee wailed, rolling around on the floor next to Eric Holder, who immediately went into apoplectic fits upon hearing the Pope wants to reopen the Coliseum to feed black people to leopards, as reported by Maureen Dowd (who filled in all the missing Madlibs the Pope didn't actually say, because she knows what he REALLY meant and can scry concealed RAAACISM from the ether like white smoke over the Vatican).
Sharpton, Jackson, Gates, Lee, and Holder were quickly joined by James Clyburne and John Lewis, who all demanded Dr. Utopia immediately be made Pope.
"It is the only way to heal this vicious, vicious wound we created by rolling on the floor to great media fanfare inventing nonsense even we don't believe, but use exclusively to shake down the rich and corporations for "consulting fees" to prevent boycotts.  Our president enjoys being revered and worshipped, and Rahm Emanuel and Charlie Crist keep telling him how much fun it is to wear dresses, so he's willing to give being Pope a try until he gets tired of it and wants to run for Jesus.  And anyone who tries to stop him is a, wait for it, wait for it, wait for it, RAAAAAAAAAAAAAAAAACIST!  Obama in Heaven, I just fudged my dydees!  Again.  RAAACIST!", caterwauled Clyburne, with Lewis at his side shouting "Yah!" every other word for dramatic impact.
"Too bad my good friend Johnny Cochraine is dead, which is RAAACIST too because why does the Reaper have to wear black but angels get to be all lily-white? If he was here, he'd say, "If the Pope's on the ropes, it's time to get the straight dope, for that guy who says HOPE. Bee-bee-bee-bope!", Sharpton word-farted in the general direction of 100 assembled MSM cameras.
When told by a reporter from the Mineral City Pennysaver that "bee-bee-bee-bope" is not a real, cromulent word, Sharpton et al raised a great chorus of RAAACISM! accusations at the young woman with the Dictionary and ran screaming from the room, informing all the interview was over…but the boycott had just begun!
Here's something people here in Chicago are talking about today that has many concerned about the childish behavior of some Republicans and "libertarians" in the state.  Pettiness and myopia could very well help land Alexi Giannoulias in the Senate — and that's a very bad thing for Illinois and the nation. 
Giannoulias is scion of the family that owns Broadway Bank here in Illinois (also known as 'The Mob Bank").  The Giannoulias family is so shameless in its dealings with Broadway Bank that recently it even sued several known crime figures for money owed to Broadway.  That's right, they publicly out their dealings with local crime figures to collect relatively small amount of money, with no care in the world that by doing so they clearly admit their cozy relationship with these kinds of people.  Only in Illinois would this happen. Only Obama Democrats are this shameless. 
And only in Illinois could Giannoulias have been made State Treasurer (having never held an elected position before), largely with Dr. Utopia's support after he became a United States Senator here.  Giannoulias came out of nowhere, with no experience, to become Treasurer — and has been involved in one scandal after another while in Springfield. Coming from a family that does the kind of business it does, with the kinds of characters it associates with, none of this should be any surprise. 
The White House wants Giannoulias to win that Senate seat, Dr. Utopia's old seat. It's going to be a point of personal pride for the current president to install his basketball buddy Giannoulias there, the way he pushed his basketball buddy to be State Treasurer back in 2006. And Dick Durbin wants Giannoulias to join him in the Senate, where the two will get up to all sorts of shenannigans together.  
It seems like a no-brainer that the people of Illinois would refuse to let this happen, but then you have to consider how crazy Republicans are in Illinois.  We refer a lot to something that happened on June 29th, 2008 because it is truly one of the most absurd and surreal moments of our lives:  a group of Log Cabin Republicans told us they were not going to vote for or help John McCain because he wasn't conservative enough and they'd rather have a disastrous Democrat in office for 4 years than a Republican who "wasn't good enough". So, they sat home and had farting contests all election day, presumably, because a Leftist whose policies are destroying this country was better than a Republican who was too moderate for Log Cabin tastes.  It's insane. 
And it is happening all over again with Mark Kirk. 
Kirk has a lot of problems as a candidate, not the least of which is the fact he needs a lot more practice campaigning.  Ask him any question he doesn't like or doesn't want to answer and he'll just start talking about being in Afghanistan, as if people are so stupid they forgot what they asked him while being mesmerized by his tales of heroics in the military.  We love that Kirk serves in the reserves and has been on missions overseas — thank the stars for him, and all those in uniform like him.  But, Kirk should not use that uniform to deflect questions he does not want to answer, or can't answer.  It cheapens the sacrifice the military makes when it's so shamelessly used as a prop like that. 
Kirk also needs to explain his vote for Cap & Trade (something many people believe will destroy the US economy while China and India plow ahead unimpeded). Kirk's always been an enviromentalist, but did he read the Cap & Trade bill before being one of 8 Republicans to vote for it?  It seems like he didn't, and at various events around Chicago, when asked about his vote, Kirk hems and haws and stumbles through an anecdote about Afghanistan, where he starts to claim the US is there for oil (Kirk is a terrible liar, though apparently used to getting away with this kind of thing because he's legitimately surprised when someone in a crowd calls him out and reminds him there's not only no oil in Afghanistan, but the reason we're there is to eliminate the Taliban). 
All of this has conservatives and libertarians in Chicago up in arms about Kirk.  These people are, largely, diaper babies. 
Great big, petulant, diaper-clad, adult infants. 
Their arms are folded against their chests.  Their lacy onesies are splattered with various shades and flavors of Gerber's. They mutter endlessly, "Can't support Kirk 'cause Cap'n Trade. Just gonna sit here election day.  Let Giannoulias win for all I care 'cause Kirk voted for Cap n' Trade!".  Waaaaaaaaaaaah!
Kirk was a fool to vote for Cap & Trade.  He was.  It's a bad bill that if passed in the Senate, too, would cripple US manufacturing and be a serious and fatal blow to our economy.  It's worth wondering what Kirk was promised to pass the bill and what went into his thought process when casting that vote.  What was he thinking?  WAS he thinking? Which devils in Washington made him do it? We think he just didn't bother to read it and figured it was something innocuous for the environment…but his voting YES allowed at least one Blue Dog to vote NO when otherwise the DNC would have scrambled to get that extra needed vote.  All 8 Republicans who gave cover to Blue Dogs on this should be ashamed of themselves. 
But they shouldn't suffer the wrath of the diaper babies. 
Because the diaper babies need to grow the Hell up. 
Honestly. 
Who are these perfect candidates from mythology they want to support?  The diaper babies were huge supporters of Mark Sanford just a few months ago.  That's all we heard from their cribs. "Mark Sanford! Mark Sanford! Mark Sanford!", over and over and over again.  That was their guy for 2012! That was the man who was going to send Dr. Utopia packing! Mark Sanford was going to come from nowhere and save the day!  
The diaper babies are stupid. Because they sat out 2008 (and gave McCain less GOP support than Bush got in 2004, while Dr. Utopia did NOT, contrary to media myth, overwhelm the voting booths with new young and black voters), Republicans lost with a moderate who was "not good enough" for the diaper babies to crawl out of their cribs and vote for.  "Not conservative enough, so me stay in crib and suck my binky election day!". This candidate's not conservative enough. This other one is not libertarian enough, whatever the Hell that means. Someone else has too many freckles.  Really, these people are impossible.
It's like they work for the Democrats.
They are as bad as Ralph Nader supporters were in 2000: election spoilers.
"Us diaper babies gonna vote third party 'cause we're LIBERTARIANS, that's right, we are."  Even though voting third party means a Democrat like Giannoulias wins the seat when Republicans could have a truly wonderful prize for the taking. Even though the diaper babies were in LOVE with Mark Kirk until the Cap & Trade vote, they are going to throw away a Senate seat because of the "principle" of it.  
We hear this nonsense every day and it never once makes any sense. There is just no reasoning with diaper babies, and so it's our own fault for letting them boggle us.  People who choose to roll around on the floor wailing and crying and making no sense are people who don't really care about winning that Senate seat anyway.  Really, they just want attention.  And being thorns in Kirk's side over Cap & Trade means they get to put on their most sparkling, bedazzled Pampers and their most garish bibs and bonnets and pout and stomp and get all up in Kirk's grill every chance they can, crying, "You lied to us! Us babies sad! We no vote for you!" while Kirk just shakes his head and asks, "Well, what can I do?".
Would Mark Kirk be a better Senator for the people of Illinois than Alexi Giannoulias and his mob bank connections?  That's an unqualified YES.
Is Mark Kirk perfect?  No.  Is Mark Kirk a better person and candidate than Alexi Giannoulias?  YES. Will Mark Kirk occasionally vote for things the diaper babies will be upset about?  Probably.  Would Alexi Giannoulias upset the diaper babies?  Guaranteed, every day, with every vote.
So, the choice for diaper babies is either a guy they are mad at for one thing, or a guy they would be mad at every day for all kinds of things.  
A choice between someone who might make one bad call out of 100 versus someone who will surely make 99 more bad calls than Kirk.  
Can the diaper babies cut the screaming and wailing long enough to see the reason in this?  Or will they take their toys and go play with a "Libertarian" candidate on the third party route, the way they threaten (and guarantee a Democrat win in the seat)? It's frustrating this same nonsense plays out again and again in this town, but it's the diaper babies' favorite game, to be sure.
When we met Michael Steele last month, one of the things we told him is that Democrats and the MSM pick Republican candidates they want to run against.  Moderate Republicans do not win national elections.  Normally, we're thrilled when the GOP allows weak, fatally-flawed Republicans to run against Democrats — when those are Democrats we like and want to win.  Here in Chicago, the GOP backing crazed loon Rosana Pulido in the 5th Congressional race in March against good-guy Mike Quigley was marvelous.  It was the Pulido Generals versus the Quigley Globetrotters, and things went down just the way you'd expect in exhibition, high-styling, guest-starred in an episode of Scooby Doo!, basketball. 
But, this isn't so funny when Republicans select candidates who will clearly lose to bad Democrats…or to flat-out SOCIALISTS.
We THOUGHT the GOP would learn its lesson and not allow the Democrats and MSM to pick Dr. Utopia's 2012 opponent, but this is exactly what's happening, people. 
And we have to give credit where it is very, very much due because the way they are going about this is perfectly executed and in complete control of all the casual news-readers out there who have no idea they are being played. 
Bobby Jindal and Charlie Crist are repeatedly held up by the MSM as two leading contenders for the GOP's nomination in 2012.  Because both of them will lose to Dr. Utopia (Jindal, because he is neither a remedy to Dr. Utopia nor an opposing narrative to his own and Crist, because he is orange, for one, and because of what he used to get up to at the Green Iguana in Tampa, for two, three, and cha-cha-cha). 
Read the Redstate piece as it details how John Huntsman has been engineered by Democrats and the MSM, with McCain's help, to become the Republican nominee in 2012.  
Honestly, if Republicans are stupid enough to nominate a moderate two elections in a row, then the GOP deserves to self-implode as a party; if Americans really are stupid enough to give Dr. Utopia a second term, in which he would at last be able to reveal himself for who he truly is and revel in an absolute radical leftist agenda free of any elections to defeat him and anything on Earth to stop him, then maybe America itself deserves to implode and end under him. Because, at that point, we would indeed just give up.  We did our part.  We sure as Hell tried to stop this.  And we will surely turn out the lights as we leave. 
Because the warning signs on all of this are as clear as day.  The only thing restraining Dr. Utopia today is the fact that he needs, at the very core of his being, to win that second term.  Every day, he is campaigning for that, because losing the presidency like Carter or Bush Sr. would quite possibly destroy this egomaniac.  Republicans are out there doing whatever it is they do all day, but Dr. Utopia is plotting and scheming with Axelrod, Emanuel, and Co. for that second term. 
They know full well Hope! and Change! won't work a second time around, and that in 2012, nothing will have changed in this country, except for the worse.  By 2012, the wild inflation caused by Dr. Utopia's reckless spending will whallup us all, and all of the new social programs germanated by the Trillions in spending he's forced through Congress will still be sucking more tax dollars from states and local government, forever needing more infusions of cash from the feds to stay afloat.  Unless Dr. Utopia REALLY IS the light-bringing miracle worker his followers believe he is, we are going to be in seriously bad shape in 2012.  
Which means, the way Dr. Utopia wins a second term is to run against Jindal, Crist, or Huntsman, with Hunstman's fatal flaw being the fact that he's even more moderate than John McCain — and McCain is a Republican we, as Democrats, love but whom we, as Democrats who do not support Dr. Utopia's socialist agenda, do not want to see hand-pick his successor as GOP nominee.  
The one hope we have in all of this goes back to that conversation during the Pride Parade last year we had with Log Cabin Republicans in Sidetrack's here in Boystown.  Remember, those guys told us they did not want McCain to win because he was too moderate, so they were going to let Dr. Utopia become Carter Part Deux so that a new Reagan could emerge, and a true conservative candidate would be the 2012 nominee.  
The media keeps pounding and pounding and pounding a drumbeat that the Republican Party is dead, with TIME magazine featuring an "endangered species" elephant on its cover and Arnold Schwarzenegger braying that the party needs to move left to survive.  
Well, moving to the center didn't win you 2008…and it won't win you 2012.  When something does not work out well for you, you do not do more of it. Dummies.
This push for Hunstman, Jindal, and Crist also, you may have noticed, remains in coordinated concert with daily efforts to malign, berate, and nuetralize SARAH PALIN, the one person we see in the GOP field who will indeed defeat Dr. Utopia and send him packing to Hawaii (because we also don't believe, once defeated, he'll be coming back to Chicago…it will be Honolulu all the way, baby, from then on, where his presidential library will also indeed be, Mayor Daley be damned). Mitt Romney will also lose, we believe, and that's hard for us to say because we like Romney and have many Romney supporters as friends, but he won't win.  
Sarah Palin will win.  
But, will she run remains to be seen.  Honestly, the MSM is doing a very effective hit job on her, with talking points from the White House itself.  Many Republican diaper-babies we know cry, "She can't be the nominee!  They will attack her!  They will make her into a joke!  A woman can't be the nominee because Tina Fey will make fun of her!".  Well, in this Golden Age of Hope, there remains the possibility that Tina Fey could acquire crippling laryngittis in 2012 (or possibly realize that she, a feminist, might not want to be the poster woman for trying to take down the first female presidential nominee of either party…but would Fey respond to Palin with gender motivation the way racists like Colin Powell jumped aboard Dr. Utopia's snake oil bandwagon?  That too remains to be seen). 
Why the diaper-babies believe Palin is the only GOP nominee the media would savage is beyond us.  The MSM will do everything it can to destroy whomever the GOP puts out there.  By 2012, most media outlets will be under tacit government control, as the lurch towards nationalizing them under Dr. Utopia has already begun (The New York Times as a 501C3 nonprofit, with tax-free status?  Really?  And as a beneficiary of Dr. Utopia's largesse in this way, don't you think they would be EVEN MORE inclined to do the White House's bidding?). Jindal, Crist, and Huntsman are all paper tigers set up early so they will be in place to tear down in another round of glorious, leg-tingling, celebrated speechifying come the 2012 campaign.
Meanwhile, in Alaska, we have a real life Momma Grizzly who is head and shoulders above the paper tiger men who share the hypothetical field with her.  Men, in many ways, we feel don't hold the slightest candle to her.  
And that's why Sarah Palin remains target number one, while mouth-breathers like Hunstman, Jindal, and Crist are lavished such praise by Dr. Utopia's determined supporters…and yet, Republicans apparently don't make the connection that nominating someone the White House and the MSM wants Dr. Utopia to run against might just be a bad thing.  
It's more than a little depressing writing this today, because we are committed to doing whatever we can to defeat Dr. Utopia in 2012, and will once again put our hearts and souls into this, but we have a sinking feeling that, just like in 2008, we'll have the wrong person at the top of the ticket  (on both sides of the aisle, really, yet again).