Archive for September, 2008
VIA WND h/t Drudge
More on this at Michelle Malkin
So, Gwen Ifill is moderating the VP Debate this Thursday, despite having a vested interest in SoetorObamaBiden winning this election — Ifill will gain financially from a SoetorObamaBiden win, because she has a pro-SoetorObama book set for publication in January.
With McCain as president, it's doubtful anyone will buy the book.
So, knowing this, PBS has Ifill moderating the VP Debate, in which a poor performance by Biden would make a SoetorObama win less likely…which jeopardizes Ifill's financial future.
So, to ensure strong book sales for herself in January, Ifill needs to make sure Biden wins this debate on Thursday.
So, why is she considered an impartial debate moderator, when her financial future is tied to soft-balling Biden and attacking Palin?
Isn't this what's called a clear conflict of interests?
ACTION NEEDED:  Call the commission on presidential debates and ask them why Iffil is moderating this debate when her financial future rests on Biden winning this match.
202-872-1020.UPDATE: Drudge is really stirring the pot on this…they not only are calling Ifill out on her bias, but have posted a link on Amazon where you can leave comments about Ifill and her book. Here's a screengrab of some of them before Amazon deletes them (like they did with the comments people left about Nancy Pelosi's book):
Click above to embiggen.
UPDATE:  h/t to Greta for this video — it's Ifill talking about her book.  The one she'll make a bundle of money from if Soetorobama wins the election…the book she'll profit from directly if she swings Thursday's debate in Biden's favor.
Janet H. Brown
Executive Director of the Debates Commission
Her email address:
jb@debates.org
These ads are great — remind us of the JibJab ones. Democrats don't see that the netroots is losing this election for them — every crazy attack on Palin just makes SoetorObama look bad. So, keep it up conspiracy nuts. Eat your Cheet-os and keep churning that junk out.
These kids are good, but they still have a long way before they can properly honor their Dear Leader in song…they need to dress a little sharper so the whole world knows how much they love Dear Leader…
You know, groups like this start with singing…then move on to trumpet playing, gymnastics, and all sorts of other Youth Activities to honor the Dear Leader…
The Thousand Year Age of SoetorObama begins now…sign up all the children you know today! Before they come for you…TOMORROW BELONGS TO ME! (h/t to TexasDarlin for this little bit of nightmare).
Here's a new twist to that weird rumor that's been going around via email the last few weeks, claiming Joe Biden is preparing to fake a health problem so he can leave the ticket, and be replaced with Hillary Clinton. We don't believe this nonsense for a minute, but there is an interesting bit in the LA Times today:
Another possible reason for this candidate swap: What if in Thursday night's VP debate in St. Louis, Biden, an expert debater, figuratively rolls up his sleeves, takes off the gloves and simply demolishes Palin rhetorically and policy-wise. Just destroys her.

Many if not most would find that bullying, an offense that could be rectified by Biden's departure and Obama, the would-be chief executive, stepping in to decisively make things right by naming a woman in his place. And the once-popular Palin would have been neutralized.

In any other election cycle such a scenario would be truly beyond belief. Simply couldn't happen.
We have been told by people we know on SoetorObama's finance committee that Finance Chair Penny Pritzker has been pushing for Joe Biden to "score a Michael Dukakis moment" against Palin, in terms of abortion and the morning after pill. We've been told Biden's being pressured to "really go at Palin", and to ask her what she would do if her daughter Willow was raped and wanted to use the morning after pill. This is a tactic that was used against McCain in 2000, when he was asked what he would do if Meghan, then a young teen, was raped. Meghan has said she's never fully gotten over having her name dragged around in such ugly terms. Democrats here in Chicago believe Palin would be stunned by such an attack, and that she would have no good answer to what she would do.  These Democrats firmly believe women in this country are one-issue voters who care only about abortion.  That's one reason Democrats lose national elections — because that's not all women care about.
Oh, and the second we heard about this Joe Biden morning after pill attack stuff, we told everyone we know even remotely connected to the McCain camp, so Palin would certainly know what Democrats in Chicago were up to.
If there is anything at all to this LA Times article today, we believe it would be connected to this attack on Willow Palin that Biden could conceivably launch. 
But, we still think the whole "Biden leaves and is replaced" business is laughable.  And we still don't see what benefit Hillary Clinton would get out of it, as she'd only be blamed for SoetorObama's loss in the fall, and he'd probably use that as his excuse to try to run again in 2012 ("it was all Hillary's fault!"). We used to be able to say that Democrats aren't stupid enough to put us all through this SoetorObama business again, but remember this is the party that foisted Adlai Stevenson on the nation again and again, so nothing's impossible.
We're going on record that all of this is madness — but if Biden DOES hit Palin with any morning after pill stuff or attempts "a Michael Dukakis moment", then we'd be more inclined to believe some of this conspiracy.  We'll know in a couple of days one way or the other.
NOTE: The "Michael Dukakis moment" referred to above was when, in a debate, Dukakis was asked what he would do if his wife Kitty was raped and murdered — would he want the death penalty for her rapist and murderer. Dukakis gave a disingenuous, soft answer, and seemed completely surprised by the question. This all fed into the narrative of Dukakis being a weird, whimpy candidate — the Snoopy in a tank in the campaign. That debate moment was one of the biggest reasons he lost in 1988. That's what Chicago Democrats want Biden to do to Palin.
But, we've seen Palin debate — and these fools are in for a big surprise.
With bonus footage of Hillary Clinton saying, "Shame on you Barack Obama" in Ohio…and the "Celestial Choirs Speech" too.
Jackie Mason.
Supporting John McCain.
Whuddathunkit?
Greta van Susteren asked President Clinton how SoetorObama's 20+ year relationship is any different than a white candidate being associated even for a single day with David Duke.
President Clinton said that SoetorObama left Rev. Wright's hatemongering church — but Greta reminds us that was only after media pressure for him to do so, and Wright's convenient public slap at SoetorObama wich gave him public cover in the black community to distance himself from Wright (who remains immensely popular in certain facets of society that espouse black liberation theology).
h/t to ChicagoansAgainstObama for the video.
Showing Me Censorship in the Show Me State of Missouri 
By Joan Lipkin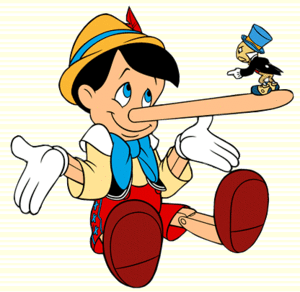 Lie of the Day: SoetorObama will do better on election day than in polls because young people only have cell phones and aren't included in polls.
WRONG!
Reality: At the bottom of each poll you will find its methodology and its sample pool. Gallup and other major pollsters call cell phones, so that knocks out part of this particular lie. Other polls that do not note whether they call cell phones or not should not be disregarded because their polls include people of all ages, sexes, incomes etc., according to their stated sample pools because they poll enough people to represent SoetorObama's "youth army" whether they have cell phones or not.
h/t to a statistician on www.HillaryClintonForum.net for this insight:
All polls are WEIGHTED. They are weighted by party, by gender, by marital status, by age, etc.

So it doesn't matter than x% of cellphone only users are dem. It also doesn't matter that x% of people who only have cellphone are under age of 30.

The only time it would matter is if
Among MALE DEMOCRATS who are SINGLE and under AGE OF 30 those without landline prefer Obama over McCain by statistically valid sample.

No study has shown that to be the case.

If WOMEN prefer Obama over McCain …
If YOUNG people prefer Obama over McCain ..,
If SINGLE people prefer Obama over McCain …
If DEMOCRATS prefer Obama over McCain ….

It doesn't matter. The survey is weighted to reflect the % of the electorate they make.

So let's look at people under 30. They make up 20% of electorate. A lot don't have cellphones right? So when they are surveyed they might only make up 15% of the phone calls. Since <30 prefer Obama the survey hurts Obama right?

No. Because those 15% are weighted to reflect the 20% <30 make in electorate.

Another way to look at it is…. It doesn't matter if the group (<30) called has 6 of 10 supporting Obama, 60 of 100, 120 of 200, or 600 of 1000. In all instances it is 60% support. That 20% of population supports Obama 60%/40%.

Sorry for long ramble but statistics is my field. Essentially the only thing that would make cellphones relevent is IF within a sub group (democrat, <30, single, female for example) people with landlines and w/o landlines vote differently.
Karl Rove runs through the failure of the Financial Crisit Bill.  Nancy Pelosi's key staff members voted against the bill — in fact, the strongest supporters of both Pelosi and SoetorObama are part of the 94 Democrats who killed this bill. 
And they did it to hurt Republicans in the fall elections.
So, Democrats allowd the financial crisis to continue into this week without resolution so this remains a viable political issue for SoetorObama.
It's disgusting.
And as much bile as we've had for Republicans through the years, we can honestly say that Rove and the Republicans would not have pulled a stunt like this. Rove has pulled other stunts, but Republicans wouldn't tank the US economy just to win an election. That's a line they won't cross.
Democrats this year will do anything to win — so you better keep your eyes open for ACORN voter fraud leading up to November 4th. Democrats under SoetorObama will steal this election if allowed — we must all be vigilante for the very worst political tricks imaginable.
Because if Pelosi and SoetorObama are willing to tank the economy just to benefit him, then there's nothing we'd put past them.